Nancy Lam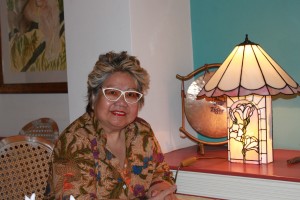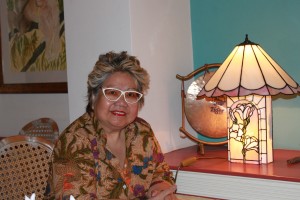 It seems like only yesterday that Nancy Lam opened her small Indonesian restaurant Enak Enak 27 years ago. She introduced Londoners to her unique brand of family-style, Indonesian-inspired cooking - laced with a whole lot of Nancy Lam's trademark personal spice!
That restaurant has since blossomed into a larger sophisticated space that is more than twice its original size, thanks to a major refurbishment that started in May 2004 and completed in September.
When it officially re-opened on October 14, 2004, it was packed with celebrity guests, friends, old and new customers with plenty of Champs and camera flashes all to celebrate Enak Enak's new look! They had loads of extra space to party too, because Enak Enak now seats more than 50 people instead of the original 28. Private parties can enjoy customised menus and personal space in its specially designed function area.
Yes, Nancy Lam's Enak Enak has come a long way since it first put the Indonesian words for "yummy yummy" into the English foodie vocabulary. Nancy prepares her famous satay, barbecued prawns, rendang and other homely dishes just the way her late grandmother taught her, so you won't find her style of cooking anywhere else.
This is, after all, a family-run restaurant where you get honest-to-goodness cooking. And as many people would agree: food is best when it comes straight from the heart.


"The food is excellent, the menu apologises that she uses the very best, freshest ingredients with love, and tells us that we are to be patient."
"Despite its unprepossessing exterior, Enak Enak is a real Tardis of a restaurant – much bigger inside than out and softly lit with faux Art Deco panels that are oddly soothing. The whole place has surprisingly good feng shui, which is presumably why it is rocking with an interesting variety of diners – some local and some who clearly travel across London."
"She is renowned both for her delicious and homely cooking and for her entertaining way of dealing with stuffy customers."
What our lovely customers have to say:
"Her restaurant is 500 yards from us, and she is, and always will be, a superb cook. The food is spectacular, but more importantly Nancy is a fantastic host and Ben is a wonderful man. I have always been very well looked after when we visit them, and Nancy gives me much abuse if i dont clear my plate. Its like going to dinner with your mum,... if only your mum could cook superb Indonesian and Chinese food. A wonderful family run place."
"Came here last night for dinner with the hubby and was very impressed! The interior is very cozy and intimate and the service was very friendly and they gave us great recommendations. We split a few shrimp and veggie appetizers and entrees, tapas style so we got to taste a few different dishes and everything had lovely flavor and I ate till I couldn't fit any desert! Lovely spot for a BDay or intimate date. I will be back for sure any time I'm in town!"
Nancy Lam's Enak Enak reviewed on TripAdvisor London Restaurants
Nancy Lam's Enak Enak restaurant has been awarded a Certificate of Excellence 2013 for having outstanding reviews (4+ stars) on TripAdvisor.com. TripAdvisor London Restaurants and we feature in the top 1.5 per cent of London Restaurants.
We are honoured to be awarded this certificate as an Independent restaurant. These reviews really help and we thank TripAdvisor.
NANCY LAM'S ENAK ENAK EARNS 2013 TRIPADVISOR CERTIFICATE OF EXCELLENCE
Honoured as a Top Performing Restaurants as Reviewed by Travellers on the
World's Largest Travel Site
LONDON, UK – June, 2013 – Nancy Lam's Enak Enak today announced that it has received a TripAdvisor® Certificate of Excellence award. The accolade, which honours hospitality excellence, is given only to establishments that consistently achieve outstanding traveller reviews on TripAdvisor, and is extended to qualifying businesses worldwide. Only the top-performing 10 per cent of businesses listed on TripAdvisor receive this prestigious award.
To qualify for a Certificate of Excellence, businesses must maintain an overall rating of four or higher, out of a possible five, as reviewed by travellers on TripAdvisor, and must have been listed on TripAdvisor London Restaurants for at least 12 months. Additional criteria include the volume of reviews received within the last 12 months.
"Nancy Lam's Enak Enak is pleased to receive a TripAdvisor Certificate of Excellence," said Nancy Lam, Owner of Enak Enak. "We always strive to offer our customers a memorable experience, and this accolade is evidence that our restaurant is obtaining these positive reviews on TripAdvisor London Restaurants."
Enak Enak, established for 28 years, also rates in the top 1.5 per cent of all restaurants in London on TripAdvisor.
"TripAdvisor is delighted to celebrate the success of businesses around the globe, from Sydney to Chicago, Sao Paulo to Rome, which are consistently offering TripAdvisor travellers a great customer experience," said Alison Copus, Vice President of Marketing for TripAdvisor for Business. "The Certificate of Excellence award provides top performing establishments around the world the recognition they deserve, based on feedback from those who matter most – their customers."